TEAM 21 TOTALUNTERNEHMUNG AG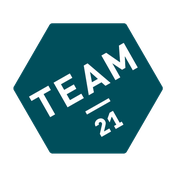 Your leading general planner and total contractor for complex building systems engineering.
Services
Comprehensive expertise and wide-ranging experience are critical factors for the success of complex projects involving building systems engineering. That's why you can count on TEAM 21.
Expertise and experience
From construction management or quality assurance to being entrusted as the total contractor: our team has the expertise and experience it takes to tackle demanding projects. We develop carefully and cleverly conceived solutions for mastering new challenges and we set benchmarks. If necessary, we work with specialists from our parent company—always with the aim of putting together a custom package of services to meet your needs exactly.
Service range
General engineering planner
TEAM 21 is the sole contractual partner for planning, development and supervising implementation.
General engineering contractor
TEAM 21 is the sole contractual partner for implementation, coordination and monitoring of construction work by the individual sub-contractors. We build and hand over a turn-key property.
Total engineering contractor
TEAM 21 is the sole contractual partner for planning, development and implementation.
As a total contractor, in addition to general contracting, we take care of the planning and development work.
Construction management for engineering
As implementation supervisor, TEAM 21 takes responsibility for the quality-conscious, economical and timely execution of construction work. This includes ensuring compliance with safety and environmental regulations.
Quality assurance for engineering
By taking responsibility for quality assurance on behalf of the customer, TEAM 21 ensures quality-conscious, economical and timely planning and implementation.
Quality management
Uncompromising quality assurance is one of our strategic objectives. We maintain a finely differentiated quality management system (QM system). The system is adapted to the nature of the service company TEAM 21 and is based on clearly defined processes.
About us
Behind 21 TEAM are experienced planners, engineers and consultants—this is where our core competencies lie. Our focus is on complex projects in the field of building systems engineering. With this background, we are able to offer you real added value as a general or total contractor.
Philosophy
We at TEAM 21 attach great importance to vital partnerships. Whether internal or external staff, employee or customer, engineer or apprentice: we all meet on a level playing field. And we are open and honest with each other.
We offer our customer a tailor-made full package—from planning through to commissioning and handover of the finished project. We tackle technical challenges with tenacious enthusiasm. You as a customer can rely on carefully considered solutions.
We provide our services efficiently and without duplicated effort. We are aware of and master the interfaces and avoid any frictional losses. As a customer, you benefit from greater security and clear lines of responsibility—all from a single source.
Organisation
TEAM 21 Totalunternehmung AG is a subsidiary of Amstein + Walthert AG in Zurich. TEAM 21 focuses on services as a general planner, general contractor and total contractor for complex building systems engineering. The company was founded in December 2012.
Facts
Insurance
Against personal injury and material damage to the amount of 20 million CHF 
Against building damage and financial losses to the amount of 5 million CHF
Association memberships
Contact
Whether you're a customer or an employee, at TEAM 21, you've come to the right place if you love exciting challenges. You are most welcome here.
TEAM 21
TOTALUNTERNEHMUNG AG
Generalplaner, General-
& Totalunternehmung
für technische Projekte
Andreasstrasse 5
CH-8050 Zürich
____
Public limited company
Legal form
1.0 million CHF
Share capital