Sustainability as a competence
In order to be at the forefront, Amstein + Walthert is committed to the three dimensions of sustainability—society, economy, environment—and is constantly implementing new measures in this area. For the long-term and sustainable planning of our commitment, we have developed sustainability goals for the entire Group and have adopted binding targets.
Since 2014, we have been taking a closer look at our environmental impact and publishing a sustainability report every year. This summary provides an overview of our activities in the 2020 financial year. For more information you can click through the detailed report or read the executive summary with the key sustainability figures.
Employees
Our company is established throughout Switzerland and in Lyon (F). In 2020, we employed an average of 1,128 people at 14 sites, with a female share of around 20%. One of our main concerns is the continuous training and development of our specialists and apprentices. In 2020, our employees* completed over 3,840 hours of further training at the internal A+W University.
With our pension fund, managed by employee and employer representatives, we provide for a secure pension plan. In the 2020 financial year, the interest rate on retirement assets was an encouraging 2% (minimum interest rate according to BVG 2020: 1%).
Energy and greenhouse gas emissions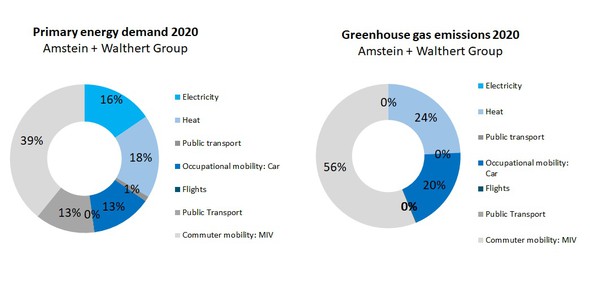 As a company, we need energy in a variety of forms: for heating our buildings, for operating electrical systems or for occupational mobility. In 2020, our total demand amounted to 5,863 MWh (primary energy, including commuter mobility). Due to the Corona pandemic, primary energy demand decreased compared to the previous year (electricity: -5%, heat: +1%, occupational mobility: -10%).
The direct greenhouse gas emissions from our fossil fuel company vehicles amounted to 42.5 tonnes of CO2 equivalents in 2020 (Scope 1). The emissions caused by our electricity requirements for the operation of offices and equipment as well as for the electric company vehicles amounted to 0.18 tonnes of CO2 equivalents (Scope 2). By far the largest part of the greenhouse gas emissions, which are, however, accounted for upstream and downstream value chains, is caused by the heating of our buildings (192.9 t CO2eq), occupational mobility (112.7 t CO2eq) and commuter mobility (447.8 t CO2eq).
Mobility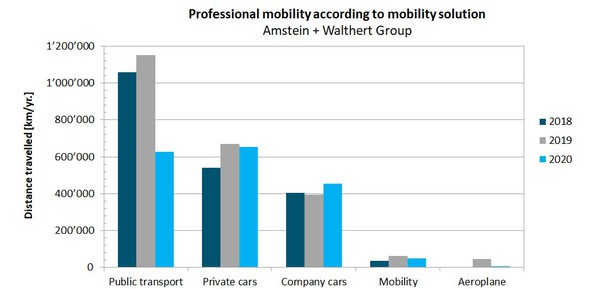 In 2020, our employees covered a good third of their distances using public transport, while the rest of their journeys were made in their own cars, the company fleet or mobility vehicles. In previous years, the share of public transport was around 50%.
The commuter mobility survey carried out at the beginning of 2020 showed that the employees of Amstein + Walthert AG cover around 66% of their journeys to work (in km) on public transport and 8% by human-powered transport. The remaining 26% is covered by private motorised transport (car, motorbike, etc.). This means that the modal split has hardly changed compared with 2017. The share of public transport has decreased by 2 percentage points in equal parts in favour of motorised and non-motorised transport.
Resources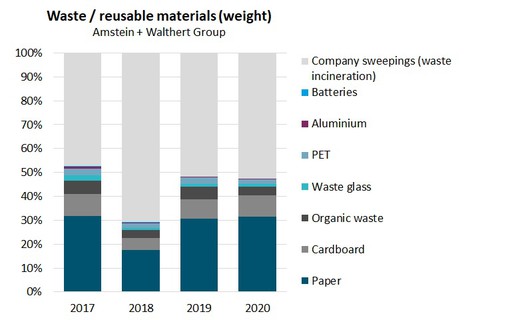 Reducing resource consumption is also an important concern at Amstein + Walthert AG. Waste volumes have been reduced in practically all divisions, which is certainly also due to the fact that employees worked at home more often. In 2020, almost 18 kg of industrial waste per full-time employee was generated. Compared with 2017, the amount of waste per employee full-time equivalent was reduced by one third. We recycle about 47% of our waste. Water consumption also fell in 2020 to 178 litres per square metre of energy reference area, or 18 litres per employee full-time equivalent and working day.
«With our know-how, our passion for innovation combined with tradition and values, we make smart contributions to sustainable sites, civil engineering and building construction projects.»