Discover our world: What can you expect from us as an employer? What values and culture do we live by at A+W? What are our employment conditions and how do we commit ourselves to our employees?
Our culture
For us, the employees are the capital of our company; they are our focal interest! We cultivate an open communication culture, focus on cooperation, fair working conditions, mutual appreciation and trust. In addition, we promote a corporate culture in which the abilities of all can develop.
Our terms of employment
Fair, market-driven remuneration, progressive working conditions and exemplary pension benefits are the basis of our terms of employment in addition to numerous other benefits. It is important to us that flexible working time models allow our employees to balance work and leisure time—regardless of their position.
Our commitment
We are committed to satisfied employees and, as a responsible employer, we do everything in our power to provide our employees with an attractive working environment and ideal conditions for their professional and personal development.
In the area of further education, we support personal initiative and time commitment with an attractive internal course offering (A+W University), help finance external further education and create interesting career prospects and development opportunities.
It's not only the employees who benefit from this—individuals with a high level of professional and social competence are a calling card for our entire company.
Top apprenticeships
Welcome to our apprenticeship page! At the Amstein + Walthert engineering firm, we give top priority to the task of educating young specialists in the central fields of electrical engineering and building systems engineering. By providing a sound and well-organised educational programme, Amstein + Walthert aims to attract individuals who meet the prerequisites for the profession, the enterprise and advanced training at college level. Your training at Amstein + Walthert will give you an opportunity to have a look at the fascinating world of engineering at an excellent engineering firm. What awaits you here is an atmosphere in which people approach one another in a respectful, open and uncomplicated manner. Throughout your apprenticeship, you will be supported by our teaching staff and by a number of helpful company employees—people who can help you prepare for a smooth entry into your professional career.
Amstein + Walthert has been approved as a training institution that supports competitive sports. This means we give you the opportunity to seriously advance your sporting career alongside your professional career. You will receive the best possible support from your vocational teacher, and we will also create an additional agreement tailored to your specific circumstances, in which the time off for competitive sports is regularly recorded.
Would you like to join us? We have lots of exciting and attractive apprenticeships on offer. Have a look for yourself or simply contact us at any time.

Trial apprenticeships
Trial apprenticeships give you an opportunity to gain an overview of a profession you would like to consider. We offer trial apprenticeships in all of the areas for which we offer full apprenticeship programmes.
It would be helpful for anyone interested in trial apprenticeships in electrical design EFZ and building systems design EFZ to have good grades in mathematics, geometry and physics. Moreover, an appreciation of technical details and an aptitude for abstract representation are important. You should also enjoy technical drawing, by hand or on a computer.
If you are interested in a trial apprenticeship at Amstein + Walthert, you will have to submit an application. Your written application serves primarily as a means of determining whether you have the necessary prerequisites for the profession. We also require a cover letter that outlines your motivation, a curriculum vitae, copies of your secondary school transcripts and, if available, your trial reports. Please send us your application documents by post or e-mail.
Apprenticeship offer
We train apprentices in the following professions:
Electrical planner EFZ 
Building services engineering planner for heating EFZ
Building services planner for ventilation EFZ
Building services engineering planner sanitary EFZ
Refrigeration system planner EFZ
If you are interested in a technical career, we would be delighted to receive your complete application, including the following documents (please send by post or e-mail to the relevant contact at the site of your choice):
Cover letter with a brief explanation of what motivates you
Curriculum vitae with photo
All available secondary school transcripts
Evaluations received during trial apprenticeships or aptitude tests (if available)
Currently available apprenticeships are published on the following platforms:
We look forward to meeting you and to your valuable contribution to Amstein + Walthert. To learn more about your future career, please get in touch with us using the contact information on the right.
With a well-founded and well-organised training program, we aim to develop qualified professionals. They should have the best prerequisites for the profession, our company, but also for further education at all levels. As a certified "Toplehrbetrieb", we support our apprentices if they wish to attend additional support courses during working hours. In 2020, we employed 11 young women and 70 young men who completed their apprenticeship in the field of electrical and building services engineering planning with us.
Amstein + Walthert AG, Zurich assures all apprentices with a successful final apprenticeship examination and good internal performance evaluations that they will be offered a job at A+W Zurich for at least one year after completing their apprenticeship. They are free to make use of this offer.
We also offer internships, which are very popular with students and graduates. Our internships provide a comprehensive insight into our daily work and make it easier for students to start their careers. In 2020, we were able to offer 25 young people the opportunity to complete an internship at Amstein + Walthert.
Further education
In 2020, our employees invested a total of 3,840 hours in further training at our own A+W University. The A+W University aims to develop and strengthen the knowledge and skills of our employees and to expand the competences of the company. In this way, we secure our company's access to the business fields of the future. The A+W University is open to all employees.
The offer is extremely varied. Courses are offered on important working tools as well as in-depth courses on special topics. Spatial coordination in the building model (BIM) is also a topic, as well as summer thermals protection or the systems and features of building automation. The programme also includes seminars on personality training and cultural events. For example, since 2015 we have been offering a 1.5-day seminar for employees in the final phase of their careers on the topic of preparation for "the post-professional future". And at one of our brown bag lunches in autumn 2020, Boris Previšić presented his book "CO2: Five past Twelve".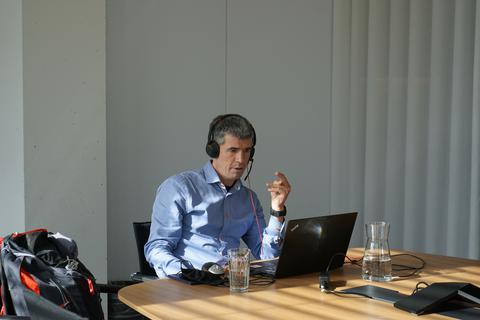 In addition to the internal further education at the A+W University, we also promote external professional training. We support our employees by crediting part of the time spent on further training as paid working time. Financing contributions to course costs can also be made. In 2020, each employee attended an average of 11 hours of external training.
Our principles
At the Amstein + Walthert Group, our employees are the focus of our interest. The pleasant working environment ensures and promotes an open and transparent communication culture. Through exemplary, target-oriented and respectful leadership, we motivate our employees and create good conditions for constructive cooperation.
Our structure
In line with our management principles, our management structure is flat, the operating units are manageable and the distances between employees and the next point of contact are short.
The companies of the Amstein + Walthert Group are organised in divisions, each of which is headed by a divisional manager. Together with the management, these are responsible for the operational management of the company. The Board of Directors is responsible for the strategic management of the Group. This takes place in regular exchanges with the management and divisional management.
As a result of our growth in recent years, we have adapted the management structure to the new circumstances. In Zurich, the various divisions have been grouped into departments and placed under departmental management. There are four departments: HVAC Building Construction, HVAC Healthcare/Pharmaceutical/Industry, Electrical/GA-Engineering and Consulting.
Most of the companies in the A+W Group have a regional focus. The managers (divisional and executive management) are familiar with the conditions of their region.
Our processes
The Amstein + Walthert Group works with the management methodology "Leading with goals". Overarching strategic goals are defined annually for this and concretised for the individual departments and divisions. Personal interviews with all employees are held annually. In these, personal goals are agreed upon, mutual expectations are formulated, and satisfaction with the current work situation is discussed. The employees are supported in achieving their goals by their superiors.
If required or on request (but at least every three years), a personnel development interview is also held, providing the opportunity for an exchange of views on personal career and further training intentions. These interviews form the basis for the individual development and career planning of the employees. The possible profiles and promotion levels are set out in the quality manual.
Wherever possible, operational changes are worked out in dialogue with the persons concerned and communicated as soon as possible. However, there are no minimum notification periods.
Employees surveys
It is our central concern to offer our employees a good working atmosphere. We use regular surveys to gather the opinions of our employees and define respective measures. The last regular survey was conducted in 2017. In view of the exceptional work situation during the lockdown, we launched the survey "Out of the crisis with innovation" in April 2020. The aim was to determine how employees are coping working from home and what measures and instruments can be implemented to improve the situation. A gratifying 70% of the staff responded to the survey. A set of home-office regulations and discount campaigns with IT providers were developed as timely measures. Further measures, for example on digital forms of training, team building and customer management, are in progress. Appropriate tips are communicated on the specially set up intranet page: "Together through the mini-lockdown".
Occupational safety
We accept our responsibility as an employer and do everything in our power to ensure safety at work, taking into account proportionality. The risk of occupational accidents is greatest on construction sites. We have therefore drawn up a safety concept accordingly. Guidelines and checklists specify which protective equipment is necessary in which situations. The safety regulations are communicated in regular training courses. Our safety manager is responsible for regularly updating and communicating the safety regulations.
Amstein + Walthert has been a member of the Suva Safety Charter since 2018. The signatories of the charter are committed to ensuring that safety rules are observed in the workplace.
Unfortunately, accidents cannot be completely prevented. In 2020, there were 6 occupational accidents (BU) and 121 non-occupational accidents (NBU). This resulted in a total of 518 lost working days, which corresponds to 0.51 lost working days per full-time equivalent. Due to the decrease of occupational and non-occupational accidents, the number of days lost per full-time equivalent fell significantly from 0.95 to 0.51 days compared with the previous year.
For every 200,000 hours worked, 0.56 occupational accidents occurred in our company in 2020 (accident rate according to the OSHA calculation method). The figure has fallen by 0.42 compared to the previous year. These declines can certainly also be explained by the fact that everyone was on the road less, both professionally and privately, due to the Covid-19 pandemic.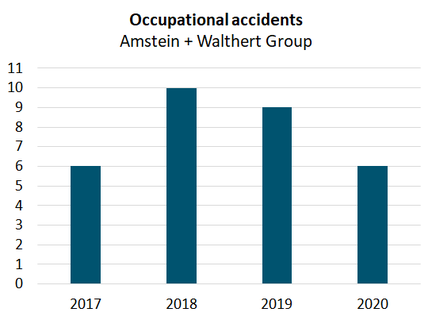 During the Corona crisis, we fulfilled our responsibility towards our employees and our customers. The Federal Council's directives were implemented immediately, and the employees were informed by e-mail and intranet about the applicable preventive measures. Regular health promotion campaigns have long been established in the companies of the Amstein + Walthert Group. In many branches, we offer our employees a fruit basket or apples during the winter months and in some branches even all year round.
In the summer, on the other hand, the focus is on exercise. The branches in Geneva, Bern and Zurich regularly take part in the "Bike to work" campaign. In 2020, as an exception, only the Zurich site took part. Within the company, 18 teams were formed, which cycled around 13,700 km within one month.
Unfortunately, neither fruit nor exercise can completely keep the flu and other bugs away. In 2020, there were a total of 5,342 days lost due to illness, which corresponds to about 5.2 days of absence per full-time equivalent. This value is slightly higher than the average of the last 5 years of 5.0 absence days per full-time position.
Work-life balance
We make sure that our employees* are able to balance their professional and private lives. Our working time model aims to provide flexible working arrangements. This means that employees, whether full or part-time, have the opportunity to organise their working hours themselves, subject to certain conditions.
Equality
We are committed to equal opportunities in working life. We promote equality between women and men in the workplace and prevent discrimination in employment, working conditions, remuneration, further training and the allocation of tasks. The proportion of women in engineering professions is generally lower. In the companies of the Amstein + Walthert Group, 20% are female. This figure has not changed in recent years. There are 91 men and 3 women in divisional and managerial positions.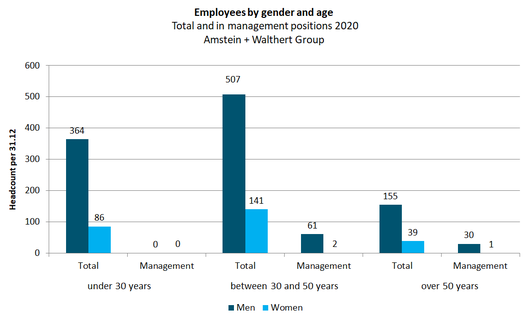 Pay equity
We offer our employees a contemporary remuneration with a 13th month's salary and profit sharing. In order to promote transparency with regard to remuneration, salary brackets for the various positions can be viewed by employees on our intranet. The classification into the salary brackets takes into account technical, social, management and marketing competences, level of responsibility, experience, training and further training as well as the requirements of the position in question.
Parental leave
We are committed to the compatibility of work and family. We are meeting this challenge with flexible working hours and increased child allowances, among other things. 13 employees took parental leave in 2020. We are pleased that we were able to welcome the majority of them back after parental leave. During maternity leave, which lasts 14 weeks (16 weeks in Geneva), our employees are entitled to 100% of their salary. Fathers are entitled to two weeks paternity leave with 100% pay.
Our commitment, our success
Our equality principles are bindingly written in the employment regulations. In 2017, we received confirmation with theS wiss Confederation's standard analysis model that the audited branches with more than 50 employees of the Amstein + Walthert Group comply with the equal pay principle for men and women. No incidents of discrimination of any kind have been reported for the 2020 financial year. We are committed to maintaining this status quo in the coming years.
Pension fund
The Amstein + Walthert Group has its own employee benefit fund, which regulates the provision for employees in old age and disability as well as for their survivors in the event of death. As an employer, Amstein + Walthert pays around two thirds of the contributions for savings and risk, while employees pay one third. In the 2020 financial year, 59 people received a pension. The number of actively insured persons was 930 (+2% compared with 2019). 
A pension fund must provide security at all times to cover the obligations entered into. This is expressed by the coverage ratio, which should be 100% or more. It shows the ratio of the pension capital available (active, disabled, retired and technical provisions) to net pension assets. In the balance sheet date 31 December 2020, the pension fund has a funding ratio of approximately 126.7%. In the reporting period, the retirement assets bore interest at 2% (minimum interest rate according to BVG 2020: 1%).
In the 2020 financial year, the pension fund chose a balanced investment strategy with the following proportions: cash and cash equivalents 2.7%, equities 43.2%, bonds 34.7%, real estate 18.2% and alternative investments 1.2%. 
The fluctuation reserve at the end of the financial year is unchanged from the previous year at 21.5%. This is due to the positive performance of 5.0% in 2020 (2019: 13.4%).
Collective daily sickness benefit insurance
The Amstein + Walthert Group has its own collective daily sickness benefit insurance as well as an accident insurance policy that ensures continued payment of wages in the event of incapacity to work due to illness or accident. 100% of the net salary is guaranteed up to the 180th day, followed by a daily allowance of 80% of salary until the 730th day.
The premiums for the collective daily sickness benefit insurance are paid half by Amstein + Walthert and half by the employee. Premiums for occupational and non-occupational accident insurance are paid in full by Amstein + Walthert.