Ever since the company was founded in 1927, Amstein + Walthert has stood for high-quality services in the field of building services engineering. The "Formula A+W" means: hundreds of experts are available as partners. Together with their clients, they are committed to lean technical solutions, the efficient use of energy and optimisation over the entire life cycle. Special attention is paid to the aesthetics and elegance of the solutions.
As a company, Amstein + Walthert is involved in society in many ways. We bear responsibility for our employees, for our customers and for an intact environment. We assume this responsibility by getting involved in numerous areas. We have compiled our commitments in a sustainability report in accordance with the guidelines of the Global Reporting Initiative (GRI). The report serves to provide an overview of our activities in the various areas of sustainability. On this basis, we derive and implement optimisation measures.
Since 2014, Amstein + Walthert has prepared an annual sustainability report. The sustainability reporting for the 2018 financial year includes all companies of Amstein + Walthert Holding AG. The Amstein + Walthert Group is anchored throughout Switzerland and is also represented in France with its subsidiary in Lyon. The companies Arregger Partner AG, Lucerne and Künzle Partner AG, Horw will merge in 2018 under the umbrella of the A+W Group as Amstein + Walthert Lucerne AG.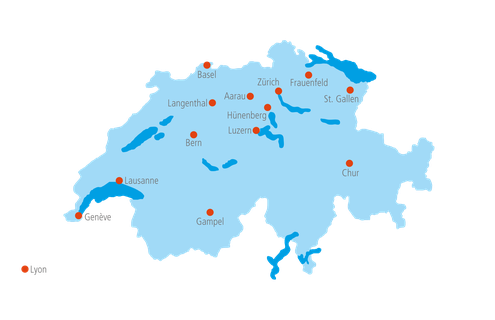 2018
The companies Arregger Partner AG, Lucerne and Künzle Partner AG, Horw merge under the umbrella of Amstein + Walthert. Amstein + Walthert Lucerne AG is created.
2017
Integration of Enastra AG (former Alpiq EcoServices Ltd.) into the Amstein + Walthert Group.
2015
The Schnyder Engineering Firm is integrated into A+W Holding.
2014
Amstein + Walthert Holding AG establishes a subsidiary in France: Amstein + Walthert SAS with headquarters in Lyon. A+W's lighting design division merges with Reflexion AG under the name of Reflexion AG.
2009
The 34 Amstein + Walthert partners found Amstein + Walthert Holding AG and transfer their shares to the new company. The holding company is now the owner of all of Amstein+Walthert's stakeholdings.
Amstein + Walthert merges the divisions that were responsible for the market segments infrastructure engineering, tunnel installations, intelligent transport systems, railway engineering and risk management under the new company Amstein + Walthert Progress AG.
2008
Amstein+Walthert AG acquires the Basel-based HVAC and plumbing engineering company Landert+Partner GmbH on 1 July 2008.
2007
Integration of Schär AG - Haustechnische Energieprojekte into Amstein + Walthert St. Gallen AG. The Frauenfeld office is made into a subsidiary of Amstein + Walthert AG in Zurich.
2006
Christian Appert is appointed as the new managing director of the Zurich-based company.
1997
The group of shareholders is expanded and the division director and managing director of the A+W Group become partners of Amstein + Walthert AG. A subsidiary is founded in Chur.
1990
The enterprise's management is restructured as R. Amstein retires. Dr. R. Walthert takes over as CEO. The range of services is significantly expanded to include tunnel engineering, building systems engineering, HVAC and plumbing engineering, and the electrical engineering division is reinforced.
1985
The engineering firm is reorganised under the name Amstein + Walthert AG. Subsidiaries are founded in Geneva, Bern and Aarau, and the firm's offices in Lausanne and St. Gallen are expanded.
1975
Reorganisation in the form of a public limited company
1947
E. Brauchli becomes a shareholder in the company and the firm is renamed H.W. Schuler & E. Brauchli.
1927
H.W. Schuler and S.L. Schild found an engineering firm for electrical systems in Zurich.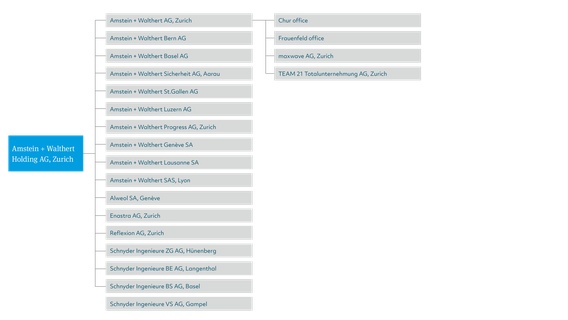 Legal form
Public limited company, Holding
Share capital
CHF 1.5 million, 100% owned by employees of the company
Employees
155 electrical engineers
155 HLKS engineers
110 architects and scientists (energy, ecology, building physics, lighting, facility management)
535 Planners, technicians, construction experts and assistants
45 ICT, HR, finance, marketing, legal, corporate governance
100 learners
1100 employees total
Membership in the following associations, among others
SIA, USIC, SWKI, SLG, suissetec, IFMA Switzerland, IHS, Electrosuisse, EIT.swiss, swisscleantech, Swissolar, VSS, FEZ, GNI, KNX Swiss, MeGA, NNBS, Piarc, SGA, swissgee, swissesco, BAUEN DIGITAL SWITZERLAND
Certification
ISO 9001
Insurance
Personal injury and damage to property CHF 50 million (double guarantee)
Building and property damage CHF 10 million (double guarantee)
Extended cover for financial losses: CHF 2.0 million (double guarantee)
Our employees are the foundation stone for the success of our company. Their well-being is close to our heart. That is why we try to promote their individual skills in a targeted manner and are committed to providing a safe and pleasant working environment.
With more than 20,000 employees interviewed and a total of more than 95,000 assessments, BILANZ, Le Temps and Statista have for the first time identified the best employers in Switzerland in 2018. Amstein + Walthert was named one of these best employers in the sector "consulting, auditing and other services". In February 2020, Amstein + Walthert again achieved 2nd place.
Our company has been growing continuously since its foundation in 1927. Since 2005, the number of employees has more than tripled. The number of employees has also grown steadily in recent years, with annual growth rates of between 3 and 12% since 2014. As of 31.12.2019, the companies of the Amstein + Walthert Group employed 1,109 people (approx. 1000 full-time equivalents). The proportion of women was 20%, practically unchanged from 2005.
Fluctuation
In 2019, we were able to welcome 278 new colleagues. Staff turnover was 12.82% (calculated according to the BDA formula).
Our employees are almost exclusively employed on permanent contracts. Only our trainees (29 people) and apprentices (80 people) are employed on fixed-term contracts. They complete part of their training with us.
Employment rate
Just under 77% of our employees worked full-time in 2019. Last year, around 15% of our male employees were employed on a part-time basis, this year the figure is a good 17%. Female employees were significantly more often employed on a part-time basis. The proportion of female part-time employees was a good 47% in 2019.
Employee surveys
It is a central concern of ours to offer our employees a good working atmosphere. We conduct regular surveys to obtain their opinion on this. The last survey was conducted in 2017. This was used to define measures which are now being implemented in day-to-day operations. These include, for example, orientation towards shared values and improving the feedback culture.
Markets
Strong market fragmentation, fierce competition and stagnating construction activity continue to lead to shrinking margins. A good reputation, quality awareness and strong networking with clients are important prerequisites for successful business in the market.
On 21 May 2017 the Swiss electorate adopted the revised Energy Act. The Energy Act is designed to reduce energy consumption, increase efficiency and promote renewable energies. The construction of new nuclear power plants is prohibited. Switzerland can thus reduce its dependence on imported fossil fuels and strengthen domestic renewable energies. The engineering market is expected to benefit from the fact that more jobs will be created and investments made as a result.
In this environment, innovative solutions, integrated planning methods such as BIM (Building Information Modeling) and tailor-made services for promising fields of application such as renewable energies, energy efficiency, renewal planning or flexible utilisation concepts are in demand. Thanks to its comprehensive service competence, A+W is well established in the market and serves a broad customer segment. Since the 2017 financial year, there have been standing commissions for the three strategic focal themes of energy, innovation and digitisation. This enables us to continue to push ahead with our research and development activities.
Competencies
A significant proportion of our services are in the areas of building services engineering HVAC, electrical engineering and building automation. But we also know how to convince in the fields of energy, building ecology, sustainability, building physics, acoustics, facility management, security and automation. We also make an important contribution to research and development. This broad range of competencies allows us to develop integrated solutions and to respond to the diverse needs of our customers.
Managing a company sustainably also means ensuring the long-term existence of the business. Healthy growth enables continuous development and creates secure and attractive jobs. With our strategy focusing on "sustainability and technology" in construction, we have a long-term perspective that enables us to compete successfully. At the same time, we are also in a position to react flexibly to the market environment. An important factor in this success is that our company is organised as a public limited company. The share capital is 100% owned by employees*. They are thus involved in the further development of the company and contribute to its long-term existence in the market.
Earnings situation
The assessment of the economic environment remains moderate to good. Deadline pressure and rapid construction times remain characteristics of today's building industry. Prices are settling at a low level. Amstein + Walthert is well positioned in the market thanks to its comprehensive and diversified service expertise and serves a broad customer segment. The Group can look back on a moderate financial year and, thanks to organic growth, increased fee income by 5.8% and net income by 6.9%.
The Amstein + Walthert Group is not subject to any disclosure requirements. For competitive reasons, it was therefore decided not to publish absolute figures on economic performance.
Cost structure
As a service company, personnel expenses are of particular importance. It is responsible for around 80% of our costs. A further large proportion is caused by external services such as commissioned work from subplanners*. The remaining costs are distributed among IT, ancillary project costs, room costs, other operating costs and taxes.
We provide our services in close cooperation with our customers. We advise and support them throughout the entire process and develop analyses, concepts and solutions taking into account the entire life cycle.
Subplanners and partners
In selected projects we work together with subplanners and partners. We maintain long-term relationships with these partners and attach great importance to a constructive exchange. In this way we can ensure that their work meets our high standards.
Suppliers
As a service provider, we hardly purchase any goods compared to industrial and manufacturing companies. The corresponding costs are therefore only responsible for a small part of our expenses (further information under Economic Performance). A large part of our procurement is accounted for by IT hardware and software, office materials and building equipment.
We offer our services throughout Switzerland and France. Our clients include private companies, the public sector, hospitals and homes, educational and research institutions, transport companies and private individuals.
Customer satisfaction
We want to offer our customers tailor-made services so that they can cover their needs for consulting and engineering services with only one partner. In order to check whether we meet the high demands of our customers, we regularly carry out customer satisfaction surveys at several locations (e.g. A+W Zurich including branches in Chur and Frauenfeld, A+W Sicherheit, A+W St. Gallen and maxwave).
At Amstein + Walthert AG, Zurich, for example, 27 female customers were surveyed in 2018. The term "customer" is not limited to the person of the client, but is defined more broadly. By customer we mean:
Client or contractual partner, usually the building owner
Person who led the building process, e.g. the architect
Person who makes fundamental decisions, e.g. the head of the company
Our customers rated our professional competence and the quality of our service as very good. At Amstein + Walthert AG, Zurich, we achieved an average satisfaction level of around 91% in 2018, which is slightly lower than the previous year's rating.
The customer satisfaction surveys are an important tool for us to obtain feedback on our services, identify areas for improvement and initiate optimisation measures. We will therefore continue to conduct these surveys regularly. However, they do not replace the continuous dialogue we maintain with our customers in order to be able to respond to feedback on an ongoing basis.
Legislation regulates essential aspects of our society and makes them binding. It is therefore a matter of course for us that we comply with all applicable laws and regulations. We also take into account all relevant standards and norms in our field of activity (e.g. SIA, DIN, SN EN). If standards are adapted or newly created, we train our employees* and thus ensure that they are taken into account in the work process. Amstein + Walthert is also involved in the development of new or the updating of existing standards. We actively contribute our know-how, be it in writing the standard or participating in a consultation process. This commitment ensures that the standards are based on the latest state of the art, but at the same time can be realistically implemented.
The companies of the Amstein + Walthert Group did not have to pay any fines or other non-monetary penalties for non-compliance with laws and regulations in 2019. Nor have any complaints been received regarding anti-competitive behaviour or the formation of cartels and monopolies.
The protection of our customers' data and privacy is a central concern of ours. All customer documents are treated with the necessary care and confidentiality, regardless of whether they are in electronic or printed form. This is one of the reasons why no complaints regarding the protection of our customers' privacy or the violation of data protection were received in 2019.
Quality assurance is an integral part of enterprise goals. The management maintains a quality management system (QM system) in accordance with ISO Standard 9001:2015. The system is adapted to the character of Amstein + Walthert engineering firm and is based on defined processes.