The sustainability report
A sustainability report discloses information on the economic, ecological and social performance and management behaviour of a company. The Global Reporting Initiative (GRI) provides guidelines for identifying and defining the key aspects and indicators of a sustainability report.
We prepared and published our first sustainability report in accordance with the GRI guidelines for the year 2014. In 2014, the sustainability report related exclusively to Amstein + Walthert AG, Zurich. From the 2015 financial year onwards, we have extended the focus. We now report annually on all companies of Amstein + Walthert Holding AG.
This report has been prepared in accordance with the GRI Standards: Core option. The GRI Content Index allows quick access to the individual topics. No external audit was carried out.
Report boundary
Our Sustainability Report was prepared for all companies (including subsidiaries/branches) of Amstein + Walthert Holding AG, Zurich, consolidated financial statements.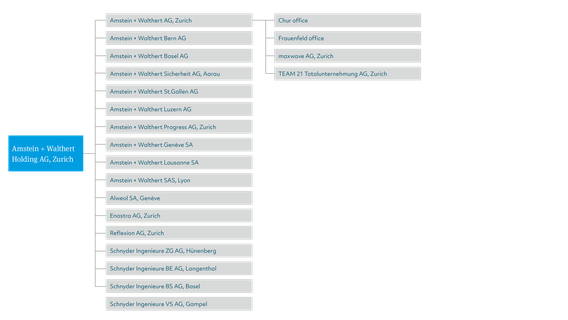 Procedure for determining the contents of the report
A working group (ARGE) was established to prepare the sustainability report and to ensure that sustainability issues are firmly anchored within our company. The working group usually meets 2-3 times a year and makes the co-presentation of the sustainability report. Members of the working group are employees* in key positions who deal with sustainability issues and maintain contacts with our stakeholder groups. Thus, the ARGE is made up of members of the management, divisional managers and employees from the fields of sustainable development, human resources, marketing, finance, engineering and consulting.
Before the essential aspects of the report content were determined, the working group identified our stakeholders for the 2014 Sustainability Report. The stakeholders themselves were not directly involved in this report. In order to take the interests of our stakeholders into account, the aspects were also evaluated by the ARGE from a stakeholder perspective.
For the materiality analysis, we have taken all GRI standards into account. In order to ensure completeness in our report, we have examined for each aspect whether it has an impact within and/or outside the organisation.
In the next step, each aspect was assessed from an internal (A+W) and external (stakeholder) perspective. The evaluation was carried out by the members of the ARGE in a standardised survey. The assessment of materiality follows a points-based system. Those aspects that were classified as "important" or of high importance either from an internal and/or external perspective are part of the report content.
At least one aspect was reported per standard. Whenever possible and when all relevant data were available, all companies of the Amstein + Walthert Group were taken into account. If a different report boundary was selected for an aspect, this was noted accordingly.
Data collection
In order to collect data on the selected aspects, our sustainability officer first contacted all companies of the Amstein + Walthert Group. They identified the relevant contact persons and presented the sustainability reporting plan on site. A tool was used to collect data. The responsible persons at the respective sites entered the data, which was then checked and approved by the management. The data collection was completed with the validation of our sustainability officers.
Our company is connected to its environment in many different ways and has relationships with a large number of stakeholders. The chart below lists the stakeholders that have a relationship with us at organisational and/or project level.
According to the GRI guidelines, stakeholders are legal entities or individuals who can be assumed to be significantly affected by the organisation's activities, products and services or, conversely, who are affected by the organisation's activities, products and services. Also included are stakeholders whose actions can be expected to influence the organisation to successfully implement strategies and achieve objectives. Stakeholders also include legal entities or natural persons who have legitimate claims on the organisation under the law or international agreements (GRI 101: Foundation, 2016, p.8).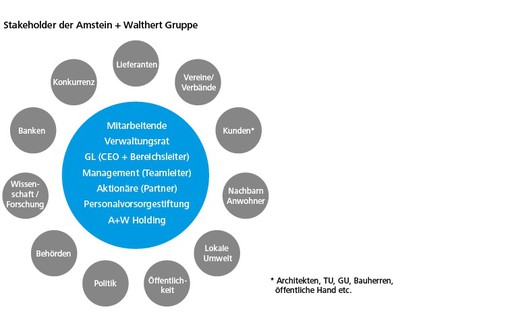 Involving our stakeholders
Stakeholders were not directly involved in this report. In order to be able to consider the topics and concerns of the stakeholders nevertheless, the ARGE for the preparation of the report is composed of employees who have contacts with our stakeholder groups and assess their involvement.
During the report preparation phase for the 2014 Sustainability Report, the working group defined topics and concerns in a brainstorming session, which should be part of the Sustainability Report both from its own point of view and from that of the stakeholders. The topics mentioned include vocational education and training, continuing education and training, career planning, switching rates, sick leave, quality assurance, mobility, waste disposal, catering services, workplace quality, customer satisfaction, energy efficiency and emissions.
The stakeholder view was also included in the materiality analysis of the topics to be reported on (more on this in the article on report content).
The sustainability goals of Amstein + Walthert are based on the Agenda 2030 for sustainable development of the Federal Government and the 17 Sustainable Development Goals (SDG) defined therein. The SDG were adopted by all UN member states in 2015. For each of the 17 goals, the scope of A+W was analysed. Our goals should contribute to achieving the overarching SDG.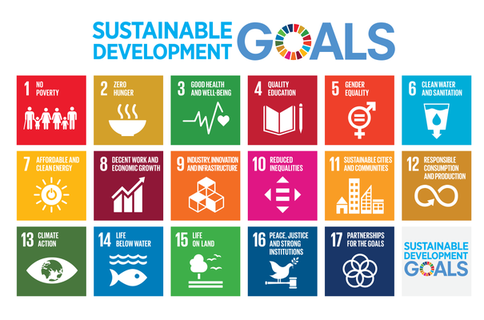 Our goals are designed for different time horizons. Immediate targets are addressed in 2018, short-term targets by 2020, medium-term targets by 2025 and long-term targets by 2030.
The targets are structured according to the three dimensions of sustainability: Society
a) Occupational safety will be further increased so that we will continuously reduce the number of occupational accidents from 2018.
b) From 2018, A+W will be a member of the Suva Safety Charter.
c) A+W participates in the external professional training of employees by granting paid training time or financial contributions to course costs.
d) We are constantly expanding our own "A+W University" training and continuing education programme.
e) The transfer of know-how between employees in all areas is promoted with suitable structures.
f) We support flexible, family-friendly working conditions, for example by enabling flexitime and part-time models.
Environment
g—i) Amstein + Walthert exclusively purchases energy from renewable and domestic sources at all sites: from 2018 for electricity (g) and subsequently for heat (h) and for the company fleet (i).
j) The technical requirements will be implemented to enable employees to work at all A+W sites from 2020.
k) We consistently separate our waste and recycle it wherever possible.
Economy
l) We will proactively develop our close cooperation with the scientific community and various research institutes until 2025.
m) The A+W innovation culture introduced in 2018 is implemented. Innovation structures are known and are supported and lived out internally.
Learn more about target achievement:
In the report preparation phase, the possible report contents were evaluated and defined by a working group (cf. Methodology).
The diagram below shows all GRI topics and the assessment of their importance for our company by the working group. The present report covers all aspects that were classified as "important" (significance high) from an internal or external perspective. These are coloured light blue in the diagram and in the table.
Our seventh report, financial year 2020, covers all companies of Amstein + Walthert Holding AG (see introduction). The contents of the report for 2015—2020 are comparable and cover the same topics.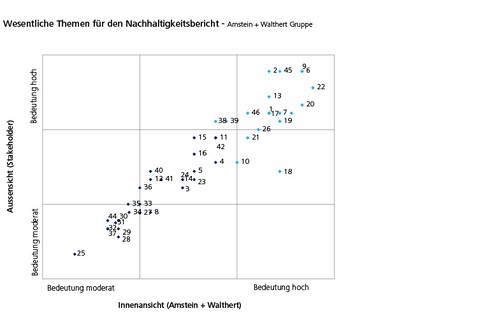 Topics according to GRI: Report content Amstein + Walthert (marked blue)
01 Economic performance, A+W and outside*
02 Market presence, A+W and outside*
06 Energy, A+W and outside*
07 Water, A+W and outside*
09 Emissions (Energy + Mobility), A+W and outside*
10 Waste water and waste, A+W*
13 Transport/Mobility, A+W and outside*
17 Employment, A+W and outside*
18 Employee/employer ratio, A+W*
19 Health and safety at work, A+W and outside*
20 Education and training, A+W and outside*
21 Diversity Equal opportunities, A+W*
22 Equal pay for men and women, A+W and outside*
26 Equal treatment, A+W*
38 Anti-competitive behaviour, outside*
39 Compliance (environment), outside*
43 Labelling of products and DL, A+W and outside*
45 Protection of the client's privacy, A+W and outside*
46 Compliance (Company), A+W and outside*
03 Indirect economic effects
04 Local procurement
05 Materials used
08 Biodiversity
11 Products and DL
12 Compliance
14 Costs for waste disposal, environmental management
15 Supplier evaluation with regard to ecological aspects
16 Complaint mechanisms regarding ecological issues
23 Evaluation of suppliers with regard to working practices
24 Complaints mechanisms concerning labour practices
25 Investments
27 Freedom of association/right to collective bargaining
28 Child labour
29 Forced or compulsory labour
30 Security practices
31 Rights of the indigenous population
32 Exam
33 Supplier assessment with regard to human rights
34 Complaints mechanisms concerning human rights violations
35 Local communities
36 Fight against corruption
37 Policy
40 Supplier evaluation with regard to social impact
41 Complaints mechanisms regarding social impact
42 Customer health and safety
44 Marketing
*Borders: "A+W" refers to all companies of Amstein + Walthert Holding AG including internal stakeholder groups such as employees, management, etc. "Outside A+W" describes impacts that arise in our stakeholder groups, e.g. in our supply chain, and also in the communities at our sites or at our customers.
This report has been prepared in accordance with the GRI Standards: Core option. The GRI Content Index lists the selected topics and refers to the corresponding content.